A place for meetings,
Good Food & Vila

In the High coast
Lea is called the room in the picture above. All of our 15 rooms are named after the women who spent a week or two on so-called Housewife's holiday here, in the last century.
Read more about the sawmill's exciting history.
The sawmill is located just north of Härnösand and is a hostel right at the beginning of the high coast, in the village of movement. You find us next to the water and what was once the operating sawmill. We are just at the beginning of the World Heritage High Coast and are the perfect starting point for excursions along the coast.
We have 15 rooms and 35 beds, ranging from single rooms to four beds. Most rooms have sea views and are easy to fill your needs for rest and good sleep. You choose if you want to bring your own bed linen and make a final cleaning of the room, or you can buy the whole package and we take care that part. At the sawmill is the shared shower (4 pcs) and toilet (7 pcs). Self-catering kitchens are available for those who wish and are fully equipped with, among other things, two refrigerators, smaller freezers, a stove and two microwave ovens, in the large garden there is how much space for the children to be on.
Prices and room categories are available below and you can make your booking directly to us at the sawmill.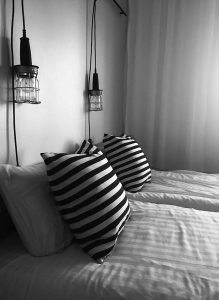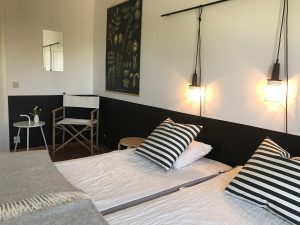 Prices 2019
June, July & August. 
1-bed room SEK 545
2-bed room: 660 kr
4-Bed room: 960 KR
Member of STF: 50 SEK discount, 25 SEK discount for children up to 15, if you book through us or STF.
Buffet Breakfast: 110 SEK, 60 SEK for children up to 12.
Veganfrukost 130 SEK booked two days before.
Sheets and handdukset SEK 160.
 Final cleaning SEK 120
Dog in dog rooms: 50 SEK/night (dog Room is only twin)
Are you a larger group and want to book so please contact me! Do you want to book conference email at hej@sagverket.se or call 0611 64011, 070 652 10 40
• Please and happy dogs are welcome in some of the rooms. Must be notified when booking. 50 SEK/Dog and night.
• Extra beds are available for rent for 150 sek/night.
• Wifi is available and is included for guests.
• Parking for passenger cars.
We are cash-free. So you can pay by card, (except American Express) and you can also pay via swish.